The way of promoting music has changed significantly since the introduction of mass media. In the 1970s, radio was a major channel of distribution and promotion which was further dissolved by the inception of MTV. The success of a music album was highly dependent on T.V and Radio channels. The high cost of music video promotion and air time was another major entry-barrier for new artists. However, both Radio and T.V started losing their monopoly to the Internet.
Today, online streaming and promotion is the key industry driver. Musicians and artists are not fully dependent on record labels for their income. Artist's major source of revenues is rather from merchandising and live concerts. So, they need to market their music and themselves effectively. Artists are coming up with many ingenious ways to make money by selling their trademark merch, endorsing products on both T.V and Social media or self-licensing their music on Youtube.
Social media marketing accounts as a major driving force in creating music awareness. Igniting a #musicchallenge, promoting meme culture, launching immersive filters are some of the very effective ways of promoting music and an artist's brand.
Recently, Warner music acquired social media publishing platform (Meme company) IMGN Media for a shy of $100 Million! IMGN Media publishes viral content on its pages like Daquan, Bodyful, Journal & more. Why do you think a music biggie would buy an Instagram meme-making company? The answer is relatively simple. To understand the taste, trends and opportunities in media consumption. One thing Individual artists can practice is engaging your fans and audience now is crucial than ever before.
Gen Z and millennials cover the major spectrum of a target audience of a musician. According to eMarketer, 43.7 million people used social media AR at least once per month in 2020 and Snapchat reported that over 170 million users use Augmented Reality lenses on their platform daily. People's love for technology and personalisation is responsible for the rise of augmented reality in Instagram, Facebook, Snapchat and Musicians are leveraging it ideally for their growth.
Creative strategies that artists are using to promote music via filters
Eminem's MTBMB filter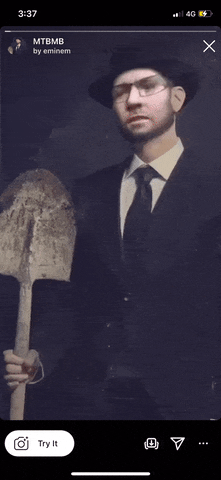 Eminem launched a filter to promote his album "Music to Be Murdered By". Fans can superimpose their face on the album cover. This filter leads to a funny meme-able experience for his fans and speaks deeper to the quirky/playful side of Slim Shady!
Deadmau5's virtual headgear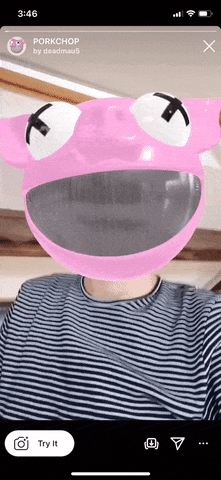 The coolest part of Deadmau5 (other than his music) is his headgear, every fan wants to wear his mouse head. Many people showcased a DIY mouse head at ComicCon. Deadmau5 launched multiple Augmented Reality filters to create a deeper bond with his audience. Now all of his fans can use the headgear too. (Marshmello also does this)
Taylor Swift's filter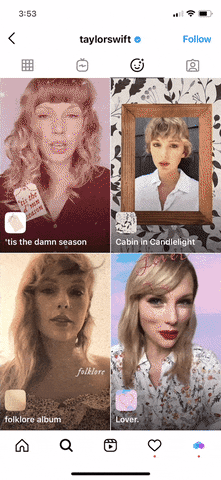 Taylor Swift surprises us with a multitude of filters ranging from the direct promotion of her songs to a combination of her favourite glitters and colours. She has a more country-glam type of filter that speaks to her audience.
Zayn Malik's game filter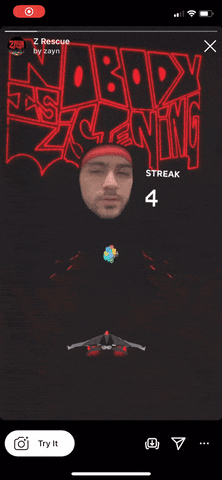 Zayn introduced a gaming filter that played his latest single "Vibes" in the background. The filter encouraged fans to set a streak in the game and share it on their respective Instagram handles.
Lenzgig recently helped Rajakumari- An Indian-American rapper to launch a filter to promote her latest single "Peace".
Case Study - Peace Filter
The brief: Launch a filter on Instagram to go along with the upcoming release of Raja Kumari's single "Peace". The objective of the filter is to promote the new single and create a deeper connection with her audience on social media.
The concept: Design an AR filter with the words "No Drama" above the user's head or across the eyes. When the user smiles or lifts their eyebrows it rains down yellow flowers. This would be a nod to the visualizations and lyrics of "Peace".
Results: Impressions - 375K | Opens - 130K | Captures - 50K
Artist leveraging AR filters to sell Merchandise
Merchandise sales are a big chunk of a musician's income and musicians don't fail us to surprise us in their merchandise.
Nipsey Hussle used AR to sell more of his clothing brand Marathon by allowing customers to experience exclusive content embedded in his merchandise. Nipsey sold out 1,000-album inventory, profiting $100,000 in less than 24 hours!
Carlings- A Swedish retail company partnered up with Facebook & Instagram to launch a filter where filter detects the logo on the T-shirt and superimpose a graphic that sticks to it, no matter which way your body bends or turns. The objective of the filter is to raise awareness about "climate and earth" by selling as many T-shirts as possible.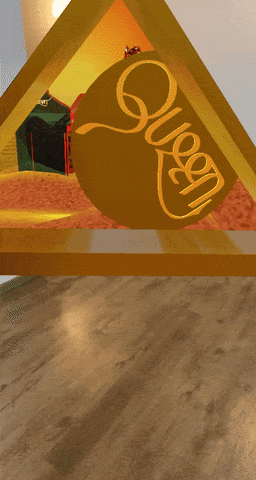 Nicki Minaj launched a Snapchat Lens to sell a necklace for her album "Queen". The filter immerses a user into a 360° portal from the album and allows them to try on the product before purchasing it. Within 24 hours of launching the filter, the necklace was sold out!
Now that you understand how to use social filters for promoting your music, merchandise and personal brand on social media. You can follow this step-by-step guide to help you launch your own Facebook, Instagram, Snapchat filter.
Steps to launch a filter
1. Decide the objective of your filter
First and foremost, you need to figure out exactly what you want to accomplish with your AR filter campaign?
To help you answer this question, ask yourself what goal or metric do you want your AR filter to achieve? Key Performance Indicators (KPI) helps to evaluate a campaign's success or failure.
Do you want your campaign to:
Drive awareness about your new music?

Increase monthly listeners?

Increase your playlist reach?

Act as a supplement to an existing campaign?

Bump up your revenues?

Push upwards in chart performance?

Or simply spread cheer!
The goal of your campaign will determine the avatar your filter will take. Increasing monthly listeners is different than pushing the music rank on the charts. Similarly, raising awareness is different than getting more revenues.
You must be confident about the goal you want to achieve through this campaign.
2. Conceptualize your filter
While searching for a perfect type of AR filter for your marketing campaign you'll come across:
Mini-game filters

Try-ons

Image-tracking

World effect

Face filters

Portals
All of these filters have shown a significant impact on industry growth. The most common type of filters musicians use is the face filters. However, feel free to sprinkle your creativity in conceptualizing your filter. You can take some bits from your music video, genre, album etc. The more creative and fun it is, the more your audience will enjoy it.
3. Launch and Promote through multiple channels
Launching a filter doesn't mean uploading the effect on Instagram or Facebook and asking users to use it once and doing nothing afterwards. The best way to have a successful launch is by doing it through multiple platforms and channels.
AR campaigns can be launched on Instagram:
Story with a swipe-up link

: You can only post a story with a swipe-up link if you have more than 10k followers on Instagram.

Effects tab

: Effects tab is just like a news feed tab but only with a collection of filters. It's the home of your Instagram filters where your followers generally tend to look for them and can directly try the filters by tapping on the "Try it" button.
Story Ads

: Instagram story ads can be used for promoting filters to a wider audience and can be suitable in growing a number of monthly listeners.

Branded Partnership

: When you partner with a record label or influencer they can promote your filters on their profile and you can see the analytics as well. It can be both paid and free partnership depending upon your marketing strategy.
On Facebook:
Facebook camera carousel

: When your followers open facebook camera to post a story they will see your filters there. Even Instagram has this feature.

Facebook newsfeed

: While posting on feed organically you can record a video of yourself using the filter or use a pre-recorded video and attach a "Try it" button to the post.
On Snapchat:
Stories:

The most common way is to post "Your Story" or "Our Story". We would recommend you to post it to "Our Story" as it will show up in Search, Snap Map, and on the Discover. Snapchatters are able to unlock the Lens by swiping up.
Other platforms:
QR code:

Artists can use a custom QR code that has a link attributed to the filter. This can be used in print media.

Your website with a custom link

: Since SparkAR enables us to have a custom link of the filter, you can promote them on websites and other social media platforms.
Here are some hands-on resources you can use to create a successful AR filter campaign on Facebook and Instagram:
4. Analyze Optimize and Relaunch
After launching an AR campaign along with your music, its success can be measured mostly in 2-3 days. If there is an inconsistency in the performance of your campaign, chances are some aspects of it might be ineffective.
Try to keep your campaign flow as short and as easy as possible. Fans don't like to see a 2-3 minutes long video preview and then use the AR effect and lastly take a specific action from there.
There are a lot of permutations of possible aspects that can go wrong in a campaign if it isn't well-versed. In case, anything is not working as expected, you should analyze the campaign thoroughly and then optimize that aspect accordingly and lastly re-launch it.
Instagram insights enable us to see useful metrics like
Impressions

Captures

Shares and many more.
The metrics on Facebook ads are even more exhaustive. Users can track:
Instant Experience

Video metrics

View time

Effects share

Link Clicks
These analytics and metrics can be significantly leveraged to understand and fine-tune the campaign for better results.
Are you looking to launch your own Instagram/Facebook/Snapchat AR filter? LenzGig can help you to find, work and launch the filter in the most seamless way. Visit our homepage to learn more.