E-Commerce is a very saturated business. With platforms like Shopify and Squarespace making it simpler and faster than ever to launch an eCommerce store, any tom-dick & harry can launch a site overnight, but the real competitive advantage lies in the way you reach out to your audience and market your brand and product.
In the past, the eCommerce industry has witnessed significant changes in trends. In 2020, COVID-19 created a shift in how business and consumers interact online, the pandemic accelerated the adoption of new technology on both the consumers and merchants end.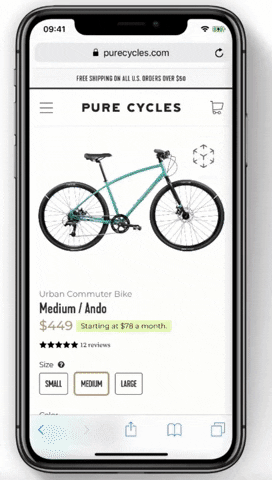 Augmented Reality is one of the factors online businesses are cashing in. It gives customers "try-before-you-buy" experiences and insights needed to make a purchasing decision. It has significantly changed the way users shop online. According to Shopify, interactions with products having 3D/AR content showed a 94% higher conversion rate than for products without 3D/AR. AR is also proven progressive in clutching the market share of brick and mortar stores by bridging the gap between in-person and digital retail experiences.
In this blog, we have jotted down some useful reasons, case-studies, advantages, and ways of implementing augmented reality in your online store. This blog will also come handy for entrepreneurs and brands who have a considerable inventory of products and want to sell it off by leveraging Augmented Reality.
Benefits of using Augmented Reality in your Ecommerce business in 2021.
Ability to try-before-you-buy
Arguably, one significant downside of owning an online store over a retail outlet was the inability to understand the product size or fit in real life. However, augmented reality has solved this problem to a great extent. Customers can now interact with the product and see how it will look on them in real life. This truncates the sheer amount of cart abandonments and increases the conversion rate significantly. Augmented Reality has given a huge value proposition to the potential customers in their buying journey.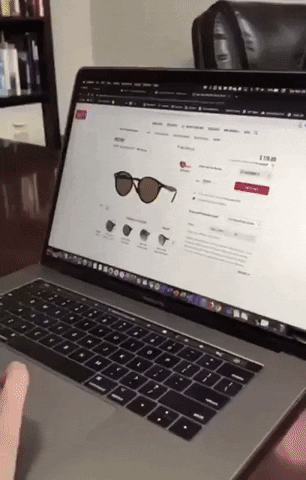 Rayban- A US Eyeglass brand, is one of the early adopters of augmented reality and they have integrated the feature seamlessly into their marketing strategy. Rayban's virtual try-on feature is also available on their application.
Some of the features include:
Virtual try-on of your preferred Ray-Bans

Share them with friends and get their feedback

Purchase your favourite Ray-Bans
However, Rayban has introduced this feature only for few hundreds of their products out of their vast collection. They have used 3D models for other products instead.
Further in this article, I've compiled a list of 3rd party software and platforms that you can use to deploy AR experience in your eCommerce store. So keep on progressing through this article.
Boost in online shopping due to Covid-19
According to IBM's 2020 Retail Index report , COVID-19 has accelerated the shift to online shopping by roughly five years. The pandemic has highly affected the buying psychology of consumers. Even the 2nd and 3rd world countries are shifting gears towards online shopping. This creates a huge opportunity for existing e-commerce businesses to expand their operations globally. Covid pandemic made AR from being a nice-to-have feature to being a must-have for many e-retailers.
Where most of the businesses were struggling in the pandemic, those who were quick to adapt or pivot, survived. Kendra Scott - A jewellery brand was swift to adapt to the new normal. Whilst the brand's stores were temporarily closing, they launched an AR try-on feature on their website. The brand even introduced a curbside pickup program to meet the demand safely in the pandemic.
Kendra Scott partnered with Mirelz- A web-based Augmented Reality and Artificial company which specializes in augmenting sunglasses, watches and jewellery in real life through e-commerce platforms.
Increased engagement in e-commerce
If you have an online store, there are high chances that you've come across high bounce rates. According to a report by Wolfgangdigital, an average engagement duration of a website is only 3 minute and 14 seconds. AR has ramped up this number to more than 6 minutes, which is 90% higher than the industry standards!
Even social media marketing and advertising have a huge upside in increasing the average engagement time of AR campaigns and ads. According to Blippar, a leading augmented reality app, marketing campaigns which use AR have an average dwell time of 75 seconds. To put this in perspective, traditional radio and TV ads have a dwell time of just 2.5 seconds.
When people spend more time on a website to engage with the product, they develop a quick brand-recall for future product references and it also increases the number of returning users and customers.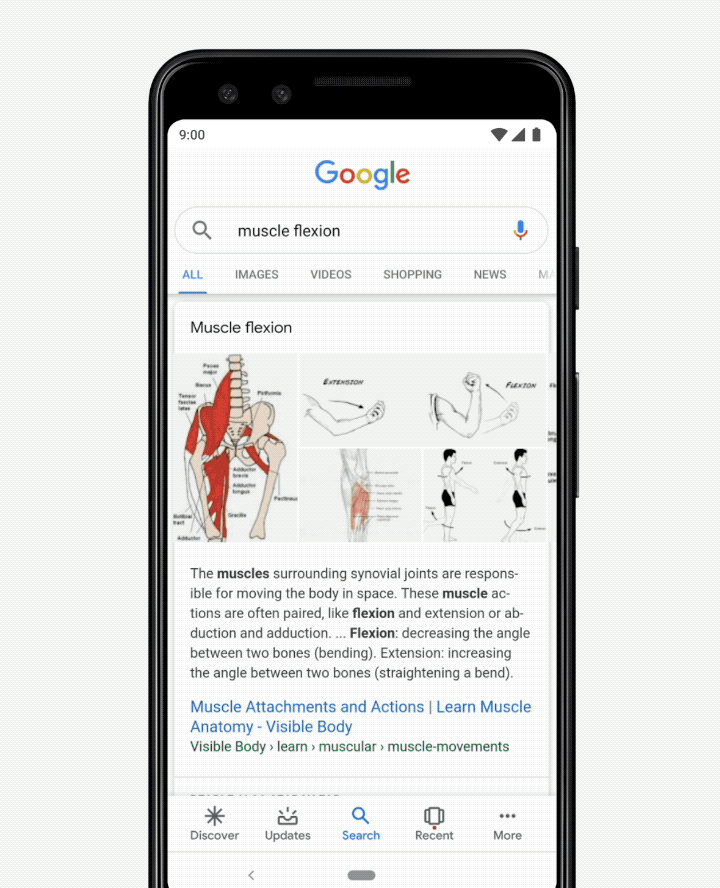 Incorporating AR now will give you a headstart in future opportunities. For example, Google is currently working with a handful of companies like NASA, Samsung, Target, Visible Body, Volvo and more to surface their own immersive content in Search.
However, this 3D and AR search results can be mainstreamed in the near future just like Facebook initially launched SparkAR for only limited companies before making it publically available for everyone.
If your website has this functionality before Google rolls AR search out for the masses, you will be already one step ahead of your competitors. Whether its rich 3D search results via Schema markup or Google AR ads, your business will be far advancing in the competition whilst your contenders will merely start building the assets to feature AR experience on their stores.
An upper-hand over the competition
Mark Cuban- American investor and entrepreneur once said in an interview, "Every new business I get into, I think what I would do to kick my own ass and if you have your own business, someone else is trying to take a bite out of it, so it's better for you to figure out how they're gonna do it, rather than they do it."
This statement goes hand-in-hand with every business. Your competition is constantly looking to take a bite out of your revenues. It's your job to make moves that constantly keeps you advancing from the competition. AR gives businesses an Upper-hand over the competition. Only one in 10 online businesses are using AR in some aspects of their marketing strategy. So using augmented reality now will help you establish your business as a far-sighted and innovative brand.
An AR-enabled website also reflects an exquisite-brand persona to the potential consumers and first-time visitors. While researching for similar products on other stores, odds of buying from your online store becomes higher with AR again giving you an edge over the competition.
Reduction in product returns
Exchange and returns are a huge hurdle in operating an online store profitably. Augmented Reality allows merchants to significantly boost the conversion rate and reduce the return of products by providing additional information and customization that does not only help to preview the product but also help consumers ensure that they like it.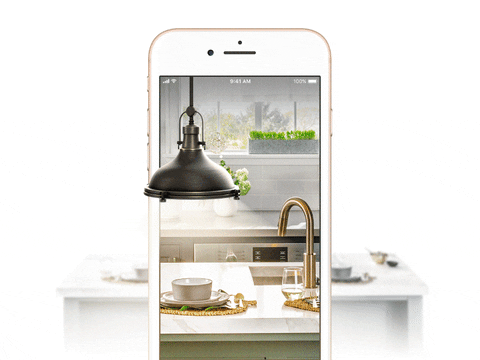 Build.com- A home improvement e-tailer has proclaimed that the return rate for customers that use AR is 22% less than the non-AR benchmarks! They obtained this figure using A/B testing upon a control group of customers that bought similar products without AR.
The good news is that diminishing returns will benefit everyone: merchants will lose less money on return items and excessive shipping costs, shoppers will be more satisfied when they receive what they want the first time and we'll all be at peace as we decrease emissions from last-mile driving that can affect climate change on a larger picture.
How to use Augmented reality in Ecommerce?
Before buyers can interact with your products in AR, you will need 3D models of your products. The 3D model is a virtual representation of an object in three dimensions. It lets you view the object from any angle.
In order to integrate Augmented Reality into your store, there is a comprehensive AR production workflow that you'll need to follow.
Steps to create an AR experience on a website:
Choose products you want to push through AR

Get a high-quality 3D model designed for your products

Upload the assets to your cart provider and follow their instructions.

Launch the AR experience on your website

Create Ads on Social media with 3D/AR assets
You should choose the solution based on your industry, problems you're solving and your company-size. Always remember, "Perfection is the enemy of profits". So if you don't see any huge upside of implementing AR in your specific niche, then go for 3D modelling instead.
You can use augmented reality in your marketing strategies instead. AR filters are a cost-effective way of marketing and advertising on social media. If you want to explore the application of augmented reality in social media marketing you can visit 5 Steps to run a successful AR filter Campaign on Instagram & Facebook for your business .
Can your eCommerce store power Augmented Reality?
If you use Carts like Shopify, Woocommerce, Bigcommerce, Magento 2, Squarespace you can use their inbuilt AR features. You can check out the links for the respective carts below:
There are many 3rd party softwares which provides AR integration across most of the platforms including bespoke hard-coded websites and dedicated ios and android applications.
Augmented Reality has a proven track record of successes and it's only getting bigger. The traction is there, the market is less saturated and we're on the verge of mass adoption, companies who adopt it now will create a long-term value for their customers and for themselves.
If you're motivated to integrate AR in your online store or your marketing campaigns, visit our homepage to learn how we can help you to do so.